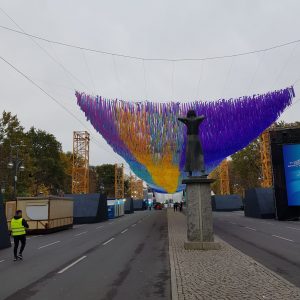 One of the most exciting things about writing this book is the opportunity it has provided me to visit different parts of Germany and meet new people, and again I was pleased that one of my speeches happened to coincide with a historic celebratory event—the 30th Anniversary of the fall of the Berlin Wall. The week before I was scheduled to go to Berlin and Dresden to give presentations about my book, the German news began discussing all of the activities that were occurring in Berlin in the week leading up to the 30th anniversary of the fall of the Wall.  My excitement grew as I watched the news and read the stories when I realized I would actually be in Berlin to witness these celebrations first hand.  
My first speech was scheduled to be on Thursday evening, November 7th at 8:00 in Berlin before the group, American Voices Abroad Berlin.  I had only been promised 15 minutes for my presentation, an d while it seemed like a long way to go for such a short presentation, but I am determined to demonstrate to my publicist that I am willing to do whatever necessary to sell/promote this book, I agreed to go, and I decided to I would make the most out of it.   I contacted some friends I had in Berlin and made arrangements to meet with them, while I was in town. I also knew that Dresden was about a 3 hour drive from Berlin, and that Democrats Abroad had a Dresden chapter, so fortunately the chapter chair was able to schedule a speaking engagement with them while I was in the area as well.
Due to work commitments, my husband does not usually have the luxury of tagging along with me on speaking engagements.  Luckily he had some vacation time he could use, so he decided to come along. We left our house outside of Munich at about 10 am on Thursday morning, and we walked into the restaurant where I was giving my presentation at 7:13.  The trip took 9.5 hours, approximately 2 hours longer than it should have.
We had no shortages of adventures which accounted for our delay including: 10 construction zones (which drastically reduces the speed one can drive on the Autobahn despite the reputation of no speed limit on the Autobahn), 4 accidents, and last but certainly not least, being stuck behind U.S. Secretary of State's motorcade on the German autobahn.  Who would have thought our trip on the German Autobahn would have been delayed by 30 minutes because Pompeo just happened to be on the same time we were? In any event, we man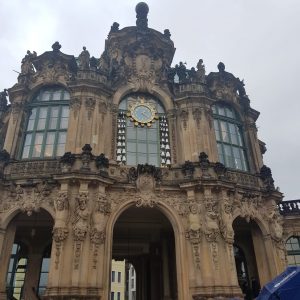 aged to arrive with enough time to actually eat before my speech.
Even though I had given my presentation to various cities in Germany, this was actually the first time I was presenting in the same location that Obama and Merkel had appeared together. I had my presentation down to what I thought was a "science" but one of the things I did when we were stuck in traffic on the Autobahn was to alter my presentation.  I replaced some of the excerpts I normally read with some excerpts from their interactions in Berlin because I thought they were more germane to my audience. The audience was much smaller than usual according to group organizers due to many people being sick. Nevertheless, I managed to have an intimate conversation with 12 people, many of whom had actually witnessed a couple of the events (like Obama's speech before Brandenburg gate) so it was interesting to hear their perspective.  
One of the most beneficial aspects of doing these speeches now is that it provides me an opportunity to meet with people and obtain feedback and tweak my message and my comments as appropriate.  There were people who found I had misconstrued Merkel's upbringing. If one reads the book, I do not think that is the case, however, in the brief marketing and short comments I make during my presentations I can see the criticism as valid, so it was thoughtful feedback and something I can change for future events.  I think however the highlight of the evening was that I was only supposed to be given 15 minutes to speak, but there was enough interest in the topic that the discussion lasted the entire 2 hours allotted for the meeting—and in fact only ended when the restaurant owner closed the restaurant.
The following day (Friday) was a free day, so Brian and I spent the day seeing parts of Berlin we had never seen before. We ate breakfast with a dear friend before we ventured out on our own.   Since one must live under a rock right now to not know that the Berlin zoo has 2 new baby pandas that were born just a few weeks ago. I insisted we go to the zoo, and although mamma and babies were kept in the back away from the masses so they could bond, they had video cameras so we could see the new family. After our trip to the zoo, my husband and I wandered through the Tier park in Berlin—a park that reminded me very much of Golden Gate Park in San Francisco or Central Park in New York.  It was a cold, chilly, and windy November day so we did not want to spend too much time in any one location. We were wasting time before we met the daughter of good friends who is a student at a university in Berlin.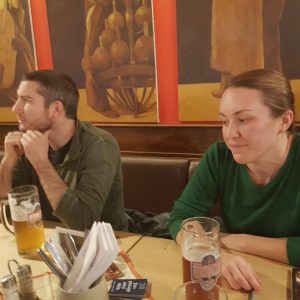 Brian and I wandered around the area by the Brandenburg Gate where we watched as stages and sound systems were set up as the police and community members were preparing for the major celebrations and music festivals that were scheduled the following day for the actual anniversary of the fall of the wall. I had read that several open air exhibitions had been set up all over the city to reflect on this important occasion.  When our friend's daughter met us after her classes, she dutifully ushered us to Alexander Platz where we could see a 3D video projection of how hundreds of thousands of demonstrators stood up against the SED (East German) regime on November 4th 1989, and then she took to the East Side Gallery, where we saw exhibition theme will be the artistic takeover of the Wall. I have o was more interested in the exhibits than anyone else, but both were extremely patient and good sports waiting for me to take photos and absorb the contents of the exhibition.
The next morning, we said a heartfelt goodbye to our friend (he is moving to Peru next month, so it will be a long time before we see him again) and we made the 3 hour trip to Dresden. Dresden was one of the few cities in Germany I still wanted to visit that I had not yet seen, so I was excited about the trip.  In addition to my presentation that afternoon, we were going to formally meet friends of friends who had moved from San Jose to Dresden in 2016. We had been "introduced" by a mutual friend shortly after we moved to Germany, and we had exchanged emails and Facebook messages, but had never officially met. She, her 3 children, and another friend of hers visiting from the states meet us at the famous Frauen Kirche in old town Dresden.  President Obama and Merkel had toured that church together and held a press conference just outside the steps. It was amazing to walk in the steps where the two had been together and see where their relationship began to transform.
Unfortunately, it was November in Germany, so the weather was cold, windy, and very rainy.  I was determined to see as much of Dresden as I could. We wandered around the old streets, the buildings and the gardens.  We walked along the river and across the bridges. We admired the beauty of the city, took photos, and promised we would return when the weather was more appealing.  Nevertheless, I can safely say in the little I saw of the city, I now have a new favorite German city.  
My presentation that afternoon was small and quaint—8 people from the Democrats Abroad Dresden Chapter. The chapter chair reserved the restaurant for 3 hours, and once again, we managed to fill the time.  One thing that interests me about these discussions is what people focus on. In Berlin, people focused on the change in protocol between Obama and Merkel primarily with respect to change in addressing one another from last to first name (Angela and Barack).  However, in Dresden the interest rested with the differences in polices between Obama and Merkel and what events led to the transformation among them that occurred. 
Each speaking engagement has provided me with an excellent opportunity to learn something new about my topic and to educate others. It will be interesting to see what lies ahead when I speak in Münster in January 2020.