At 9.30, on April 4th, 2019 I boarded a train in my hometown outside of Munich to embark on the 6 hour (3 train transfers) 600 kilometer voyage to the German Western city of Cologne to hear President Obama speak at the World Leadership Summit Conference. It was not until the tickets arrived several weeks after had ordered them that I discovered a "Backstage Pass" was included with my order. The letter that accompanied the ticket described a buffet dinner included in the price, but nothing more. Cautiously optimistic that Backstage ticket meant that I might actually get to meet my idol, President Obama I packed my favorite photo of him to ask him to sign along with a copy of my manuscript to give to him should the opportunity arise.
When I arrived in Cologne shortly after 3:00 I joined my fellow DA friends who had traveled from locations across Germany including Heidelberg, Frankfurt, and Hamburg to hear Obama speak.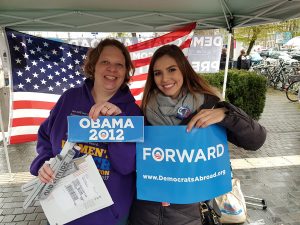 The DA Members from Cologne had obtained a permit to set up a tent outside the train station (not too far from the venue where Obama was scheduled to speak) for what we call in the political field as "visibility". Outside, in the cool, rainy spring weather, we set up a tent/yawning where the American flag hung proudly along with a "Democrats Abroad Welcomes President Obama" banner on a table. Behind the table we had buttons, posters, and other DA merchandise to sell/distribute to interested parties. We took photos, signed up 5 new people, and talked about how excited we were to see the former president speak. However, for me the most exciting thing that happened while we were out in the rain is when the President's motorcade drove by. At this point it hit me that I would be able to see him in just a couple of short hours.
At 6:00 I nervously took my photo and my manuscript with me as I made the 5 minute walk to the venue where Obama would be speaking shortly. As I grew closer and I saw signs for the "Backstage Restaurant" my hopes of meeting the President dwindled once I realized Backstage was simply a restaurant and the "backstage"
did not have the same meaning as it does in English. I quickly ate my dinner so I could go find my seat for the event. Despite being told by the organizers that I had "premium tickets", in reality my tickets were what we say in English, in the "nose bleed section". The people on the stage looked like ants from where I was seated. A small part of me was disappointed, but more than that though, I was impressed. The venue was in a large conference/sports facility that holds several thousands of people, and the place was absolutely packed. I was in awe that the former U.S. President drew that kind of rock star welcome in a foreign country. In my research for my book, I had heard about the crowds, and I had seen them in the video clips, but here I was witnessing it first hand.
I knew there were a lot of people there, but not wanting to overestimate crowd size I did not even wager a guess, but news outlets later reported that somewhere between 14,000 and 15,000 people attended the event. I cannot adequately put into words how overwhelmed I felt. Initially, none of the people sitting near me knew I was an American, and I opted to keep it that way. I wanted to objectively observe the reactions of audience members. Although most of the attendees spoke German to one another, and I did not understand a lot of what they said, but I could hear their excitement, and I had a feeling of immense pride as I saw Germans waving Americans flags and cheering whenever Obama's name was mentioned.
Obama was only one of a series of speakers scheduled to talk at this event, but it was evident that people were there to see him. There were 3 people who spoke ahead of him, and since they spoke in German (with no subtitles) I only understood a small fraction of what they discussed.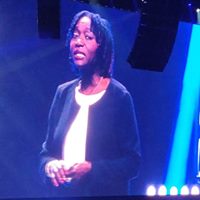 Then after what seemed like an eternity (which in reality was only 30 or 40 minutes) Obama's half-sister, Dr. Auma Obama took the stage to introduce her brother. I knew from my research that she had spent time studying in Germany, and spoke German fluently, but it was a pleasant surprise to see her introduce her brother in German, nevertheless.
After much anticipation, President Obama FINALLY took the stage. I was so far from the stage I could barely see him, and unfortunately there was a speaker blocking my view of the television monitors that the venue had in place. I could see around the speaker, but it was impossible to get even one "good "photo. Nevertheless, most people come to HEAR Obama and not necessarily see him, and luckily the arena had an excellent sound system so we could hear him perfectly. In good spirits he joked to the audience that nobody had translated his sister's opening remarks, therefore people should be weary of what she had said—insinuating the universal and often jovial relationship among siblings.
During the 60 minute discussion, Obama and a facilitator discussed a wide range of topics including climate change, civil rights, gender, and his post presidency goals. Interestingly, one thing that made the other members of the audience (and not just me) stand up and take notice is when he mentioned his plans to fly to Berlin the following day where he was holding another town hall meeting and meet with his "good friend Angela Merkel". As he said that the crowd erupted in applause and I felt this immense sense of both pride and anxiety as I realized how important my book is.
Even though Obama did not give a speech per say, he is an intelligent man and he has a way of captivating his audiences who hang on his every word. As a lifelong feminist, I was so excited to hear talk about gender equality. He argued that while we should raise our daughters to be strong minded and independent and not "play dumb so boys will like them. More importantly, I think, is that he claimed it was important to raise our boys to respect girls and not to assume they deserve better jobs, better pay and more advantages by working less and doing less simply because they are boys. With respect to his own position on gender equality, he admitted that despite his best efforts to place women in high levels of his administration, problems arose. He stated a group of women came to him and expressed their frustration that they were not being heard in meetings. Obama said he listened to them, told them that they needed to speak up more at meetings, but he also went to the men and told them they needed to back off a little and let women talk more. His example demonstrated that even with best laid plans, challenges can still arise, and a true leader will adapt to these challenges as needed.
When pressed about his leadership skills on controversial issues like the use of drones, Obama argued that sometimes being in a position of power, one is faced with difficult decisions with no good outcomes, and choosing the lesser "evil" must be done —even if that means negative consequences arise.
The facilitator reminded the audience that Obama had campaigned on creating change, and he asked Obama if he were pleased with what he managed to accomplish. Obama admitted the change he envisioned on areas such as civil rights was an ongoing process, and something that could not be changed overnight. He felt that things were better for people (such as members of the LGBTQ community) but there was still a lot of work that needed to be done. Obama talked passionately about his work with young people and trying to get them involved in the political process. He said that his words of wisdom always involved telling people to concentrate on what they wish to accomplish rather than what they would like to become because one can always work toward change on a policy regardless of the position they hold as long as they have a cause to rally around.
When asked about Trump's administration on climate change, Obama chose to concentrate on the positives rather than the negatives. For example, Obama reassured the audience that despite Trump's actions to withdraw from the Paris Climate Agreement, other communities (including the state of California) remained committed to upholding the commitments of the Paris Climate Agreement.
As usual, Obama did not once mention his successor by name nor did he directly criticize him or the administration. And, in his final remarks, the moderator told Obama, "we sure miss you" to which audience members rose to their feet, clapped, cheered, and waved American flags in a manner I had never witnessed in my life—not even in the United States. For the first time in 2 years I felt proud to be an American again.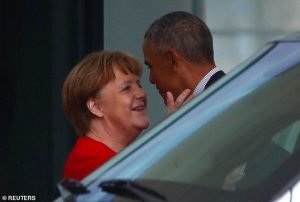 The following day Obama did fly to Berlin to see Merkel where they reportedly had a 90 minute meeting at the German Chancellery. There is a photo of Merkel and Obama greeting one another that has taken the social media by storm-as the two affectionately embraced one another. The two were so friendly with one another, my husband joked that he was curious what Michelle would say when she saw the photo.
In all seriousness, the frustrations of waiting to hear from publishers about this book I had begun to second guess the project and wonder whether I would ever find a publisher for it. However, in light of my first hand observation, and the buzz surrounding the reunion, I have reaffirmed commitment that this project is worthwhile an needs to be told.