Today was an extremely eventful day for my husband and me. My husband Brian had worked as an engineer for Tesla Motors in Silicon Valley for 10 years prior to our move to Germany. In fact, he was one of the first one hundred employees. He sadly had to leave his Model S behind when we moved from the states. However, today he picked up his new Model 3—one of the very first delivered to Germany. I rode into Munich with him because Ben Rhodes, the former speech writer and foreign policy advisor to President Obama was giving a speech at the local university.
Unfortunately I had found out about Rhodes speech too late to secure tickets, and after two weeks of groveling and pleading to anyone who would listen about how desperately I needed tickets to this event, the best I could get was "show up 5 minutes before the event and they will give no show tickets to people waiting".
After Brian picked up his car, we had several hours to kill before I could camp out at the Ben Rhodes event, so we decided we would find the venue, eat dinner and go from there. Munich, like every other big city requires parking Gods to be on one's side to find parking, so we generally take the train into the city. This trip was one of the few where we actually had a car. As we were driving around the city and Brian asked me if I knew where we where, on 3 separate occasions, I said, "Oh yes, I remember this, we protested in front of this building (U.S. Consulate in Munich) a few minutes later, "I know this street, we marched down this street during the Families Belong together march—at which point my husband just looked at me with an amused look, as I shrugged my shoulders and said, "what can I say, Trump keeps us busy". When we walked in front of the building where Rhodes's speech was to take place, I smugly turned to my husband and said, "Oh yes I know this building this is where we began our protest for the Women's March .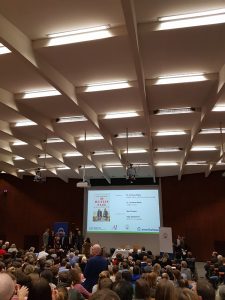 Anyway, after getting to the lecture hall an hour early, I looked around and ran into someone I had met at an earlier protest. She had secured tickets, and had a friend who helped organize the event. She explained that they had to move the lecture into a larger hall (one that held between 400-600 people) because there was such a demand. She saw my unease and told me not to worry—they usually figured something out. See for me, it was important that I talked to Rhodes because I really wanted him to write the forward for my book. His book was extremely valuable in my book, and I quoted him extensively. Luckily, I was able to get in to see the lecture (last row, but choosy pigs don't get fat)
I listened to his lecture and he discussed items about Merkel and Obama's relationship (including the part I quote about her crying when she said goodbye to Obama for the final time) He also talked about other aspects of his time in the White House including deal with race, the Syria crisis, and the transition from Obama to Trump. Rhodes was only 29 years old when he began to work for Obama and one of the few staffers that stayed with Obama the entire length of presidency, so he described the book as a "Coming of Age" story. When an audience member asked about his relationship with former first lady, Michelle he said, "Michelle told me at one point that the two of us where the only 2 that couldn't go anywhere."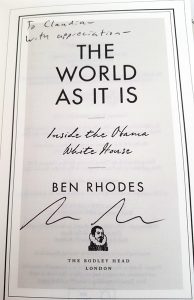 Even though I had a copy of Rhodes's book at home, not knowing a) if I would even get in to see him and b) if there would be an opportunity for him to sign his book, I left my book at home. I was relieved to see that they had books for sale up at the front, and he was in fact going to sign books after the event. Although I had been in the last row in a university lecture hall, as soon as the event was over, I was one of the first to talk to him. He signed my book, and acknowledged that he was still considering writing the forward—he had just been so busy with his own book signing events he had not had a chance to give me an answer. Stay tuned.